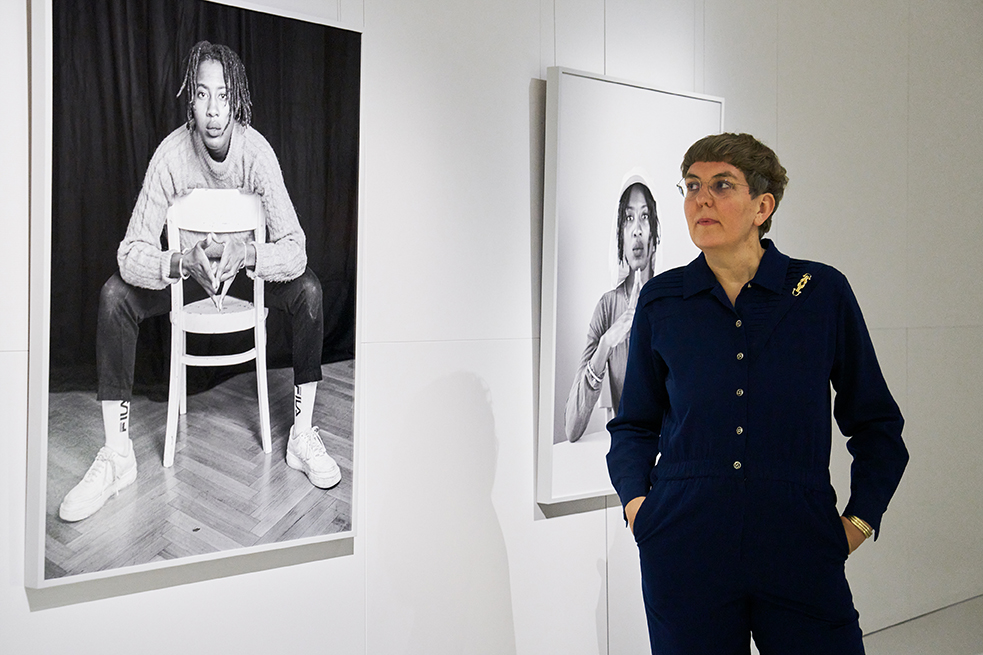 NS-Doku Zentrum, TO BE SEEN  Foto: © orla connolly
Artist Statement
Lena Rosa Händle works as artist and teacher of artistic photography. Since 2018, she has been studio artist at studio das weisse haus in Vienna, Austria.
Ranging across photography, installations, collages and sculptures, her practice negotiates a vast openness in conjunction with an intense focus on people and their social realities, their visibilities and cultural codes. Lena Rosa Händle's works critically reflect on socio-critical, political and historical issues and foreground, utopian potentials for more livable futures.
Her work was has been shown in various institutions in Vienna (among others: KUNST HAUS WIEN, FOTO WIEN, Künstlerhaus Wien, Xhibit, Academy of Visual Arts Vienna, LLLLLL Gallery, das weisse haus, VBKÖ, Soho Ottakring, Kubus EXPORT- der transparente Raum, Fluc), Graz (Rotor), Salzburg (Salzburger Kunstverein), Berlin (Schwules Museum, Alpha Nova- Galerie Futura, KN, Schöneberg-Tempelhof Museum), Leipzig (Halle 14, Academy of Fine Arts, Leipzig), Dresden (Neuer Sächsischer Kunstverein), Madrid (Hybrid Art Fair), Santander (Centro de Arte Faro Cabo Mayor), Barcelona and Istanbul.
She is author of the artist book Laughing Inverts (Kehrer Publisher, 2015).
Her work is part of the Public Art Collection, Dresden, the Public Art Collection of the City of Vienna (MA7), the Collection of the Gay Museum, Berlin and the Collection of the Tempelhof- Schöneberg Museum, Berlin.
Lena Rosa Händle has been awarded with a number of scholarships, among others of the Federal Chancellery of the Republic of Austria (State Scholarship Photography 2021, Start-Scholarship Photography 2018), of the Culture Foundation of the Free State of Saxony and the Rosa Luxemburg Scholarship for outstanding students.
She was nominated for the German Photobook Award, (2016) and was Artist in Residence of the Federal Chancellery of the Republic of Austria, in London (2020/22) and New York City (2017), as well as Artist in Residence of Orbital/das weisse haus in Santander, Spain (2018).
___________________________________________________________________________________________________________
Curiculum Vitae download
Portfolio download
p d f  Portfolio, english, 08/2021