Cuidarse es Revolucionario / To Care is Revolutionary
20 Inkjet prints (10 text poster in spanish), framed, 53 x 78 cm, Text, 2018
1. Patricia Manrique
We quickly got into a long conversation about the political situation, feminism, racism and the lack of education about queer concepts in Cantabria. She says that there is a lot of social control in Santander and that many live without coming out of the closet. The title of my work comes from her article "Fürsorge ist revolutionär" []. I am fascinated by her words, her clear thinking and her devotion to the community and social movements. We formed a strong connection during the conversations and the photo session.
Patricia Manrique (1974, Santander) is a philosopher, journalist and lover of community. In addition, she works as a tutor and gives orientation classes in philosophy.
2. Ester Aguado Izquierdo
Restrained, cautious and at the same time with a great sense of humour, I immediately feel that a nice and friendly connection is created between us. She comes to the photo session with a wonderful self-made ointment as a present. During the session she is quite tense and shy. I take pictures of her until it gets dark. She is lovely, cares about how I will get to my next appointment and drives me to the station. She lives in the neighbouring village and we become friends. She has a very independent relationship with her partner and they do not have children.
Later he invites me to Luz's house, her mother-in-law. She spends a lot of time there taking care of this family and the garden, as well as of her own family in Valladolid.
Ester Aguado Izquierdo (1975, Valladolid) works as a nurse.
3. Amparo Echevarria
She earned my affection with her kind and restrained way, and we quickly establish a warm connection. Actually, she had a different idea of what her life is going to be , but there isn't much work in Spain, says Amparo. She has always tried to please others, first her parents and then she got married at a very young age. She separated from her husband when their children were still very young. She talks with great pride about her sons. Both of them are studying right now and she wishes a better future for them. She worries about one of them, because he is gay.
I take pictures of Amparo during her shift at her workplace and I hope that she feels comfortable with it. The next day Amparo is radiant. She tells me that I helped her out of a dark place by inviting her to participate in my project.
Amparo Echevarria (1958, Maliaño) has been working seventeen years as a housekeeper at the hotel "Los Nogales", where the residency is located, in Barcenilla de Piélagos, Cantabria. Before her children were born, she sewed elaborate clothes.
4. Marta Peredo
Marta talks with plenty of love and bright eyes about her family and her four grown children. She has an incredible energy and an active life in which she feels needed. Her energy reminds me of my mother who is of  the same age. She comes to the photo session with a gift for me, a fabric bag with a printed image of Rosa Luxemburg, after whom I'm named. I don't understand some of the words she uses, they are from another time. However, our conversation gets very personal at the end. She tells me that her ex-husband cheated on her for a long time while she was taking care of her sick mother. I know it's something that happens often. My mother went through the same thing.
Marta Peredo (1936, Santander) started working at a very young age in a pharmacy where she treated and advised her clients with love and joy until she got married. Later she worked part-time in a bookstore. She has been politically active from an early age, organized in feminist and social movements. She also fought against Franco, so she had to spend time in prison several times. She is still attending and organizing feminist plenary sessions and demonstrations.
5. Lena Rosa Händle
I take many pictures of myself with the self-timer on the balcony of my studio. I turn my gaze into nature and at the village of Barcenilla de Piélagos. This view gives me peace and tranquility. I pay all my attention to others—to people with a captivating personality, to feminists and those who do not call themselves  that, and often receive little attention.
Lena Rosa Händle (1978, Berlin) is an artist, photographer and teacher. In her current projects she invites (queer) feminist artists to her temporary studios (New York, Cantabria). She will continue this project in London and Graz (Austria), where she has already been invited, as well as in other locations.
6. Tamara García
Tamara talks with enthusiasm and great detail about her many ideas, projects and interests. When I take pictures of her, she adopts a pose and I find it difficult to see what is behind it. She takes care of the social aspects of her projects with great dedication and enthusiasm, in the same way that she takes care of Luz's garden, her feminist projects as an activist, her relationship, her friendships and her dogs.
Tamara García (1980, Santander) is a multidisciplinary artist, organizer, curator and restorer.
7. Paloma González García
I'm happy to help you with anything, says Paloma in our first meeting. When I contact her two weeks later, she keeps her word. I visit her early in the morning at her small hostel "Posada Las Puentes". She took over the family business from her father and it allows her to spend more time with her four-year-old daughter. There she tells me the story of her life. The most important thing is her daughter, then her parents and then her husband. I see her image strong, earnest and focused.
Paloma González García (1983, Bron, France,) runs the "Posada Las Puentes" in Barcenilla de Piélagos. She works long and hard during the four months of pike season in summer. She takes care of all eleven rooms and makes breakfast for all guests every day. The rest of the year she has less work to do, but she can happily make a living out of it, even though without getting rich.
8. Luz Palacio
I immediately feel very comfortable in the large and cosy family house, where everyone is welcome. They all coexist peacefully in the spacious living room with open kitchen.
The connection takes some time, we are not alone at the big table. It seems natural for her to constantly take care of her big family and many other children and teenagers. Her three grown children still have their rooms at home, they are frequently there to help or still live there. Behind the house there are animals and also a large garden where vegetables are grown all year round.
Luz Palacio (1944, Solórzano) founded an alternative school called Altamira in the 1970s together with her husband and her brother-in-law. In the '80s she founded a nursery in her own house that is still in running in the upper floor, which is now run by her daughter. In addition, they take care of schoolchildren in the afternoons. Luz manages and organizes the garden and has been cooking every day since the 1970s for all the people in the house, even for the nursery and schoolchildren.
9. Marta Mantecón
Marta shines with an extraordinary light and has a lot of interest and love for others. She asks me many questions and is very interested in my art, in which she always sees and discovers something new. She also enjoys learning and sharing what she has learned. We could grow and evolve together. She takes great care of the artists and their works in every exhibition she curates.
Marta Mantecón (1971, Santander) has studied Tourism and Art History. Now she is developing her art projects and cultural work as a curator and teacher.
10. Nieves Gutiérrez Ganza
Nieves enjoys talking a lot about her life, politics and feminism. It's noticeable that she has considered herself a feminist and anarchist since she can remember. She talks loud and confident about her anger, her desires and the love she feels for her job. She has been a single mother since the very beginning, since she separated from her partner, a Roma, shortly after her daughter was born. She is cordial but hard at the same time due to the many battles she faces in her life. In spite of her warmth, I do not get close to her.
Nieves Gutiérrez Ganza (1957, Santander) works as a nurse and physiotherapist. When she works as a physiotherapist, she mostly looks after women whose bodies have suffered after years of working at home and taking care of their families. She tries to empower those women so they take care of themselves during the recovery process and give men responsibilities to do the home duties meanwhile. Mostly with little success.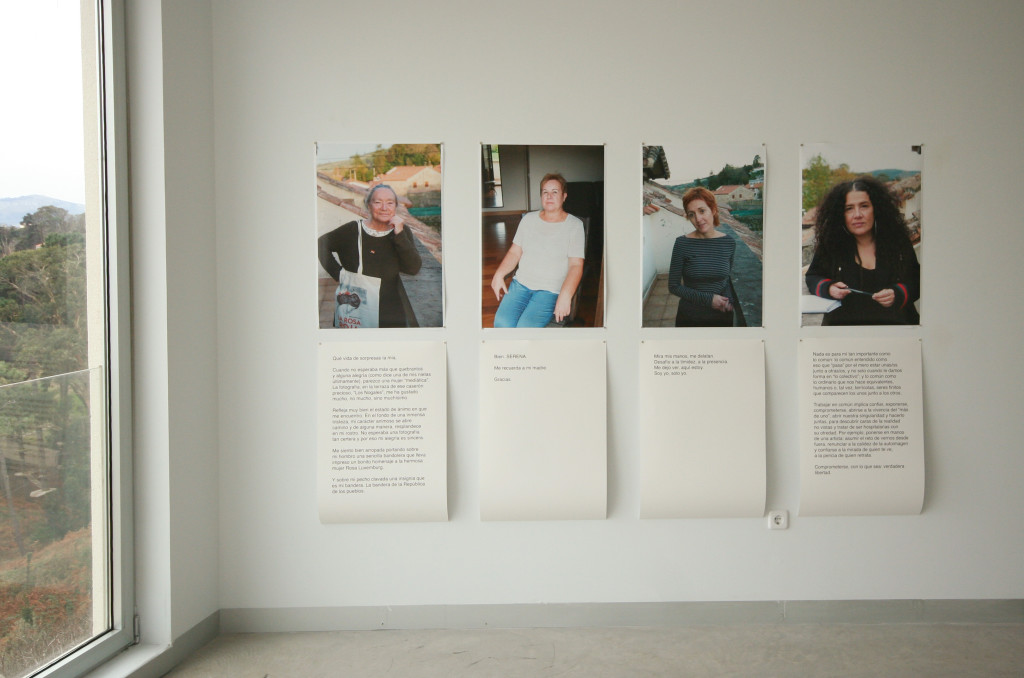 To Care is Revolutionary/ Quidarse es Revolucionario, Centro de Arte  Faro Cabo Mayor, Santander, 2018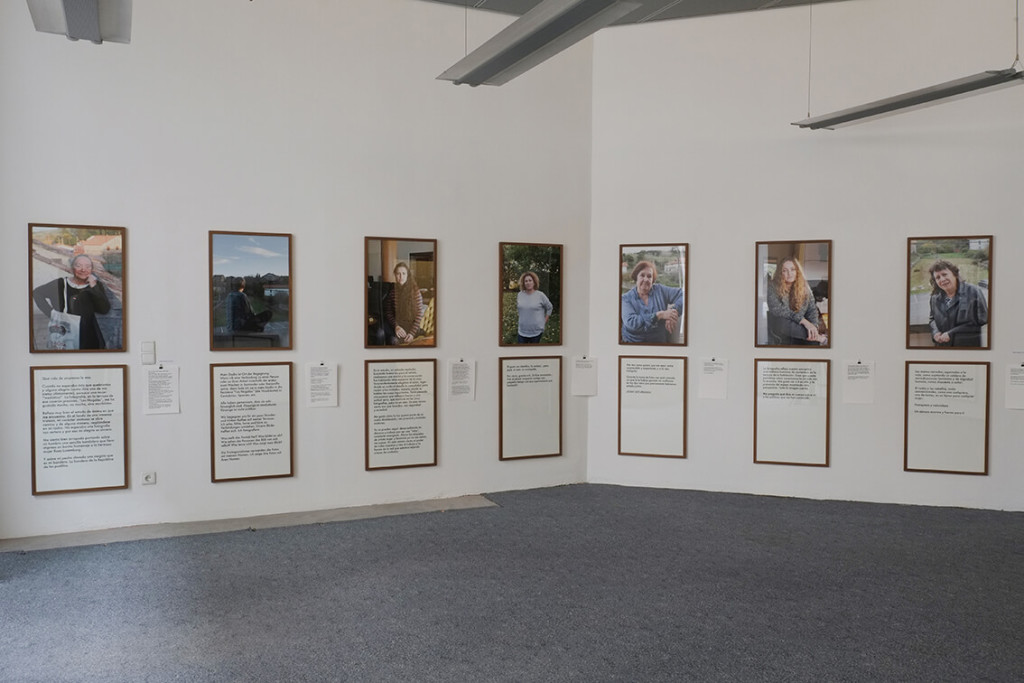 To Care is Revolutionary, Festivalcenter, FOTO WIEN, 2019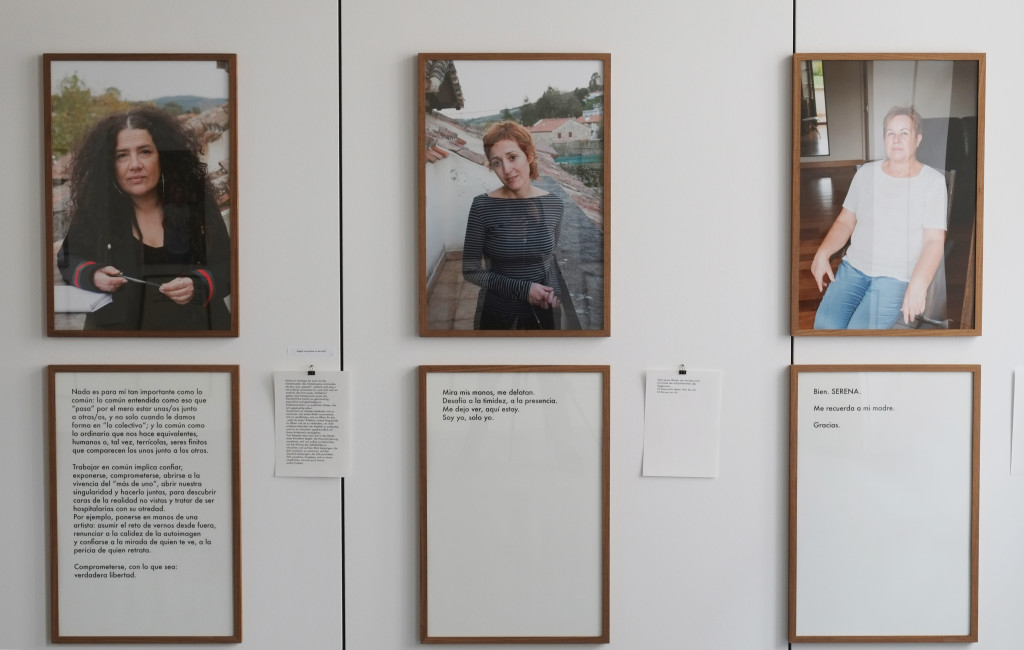 To Care is Revolutionary, Festivalcenter, FOTO WIEN, 2019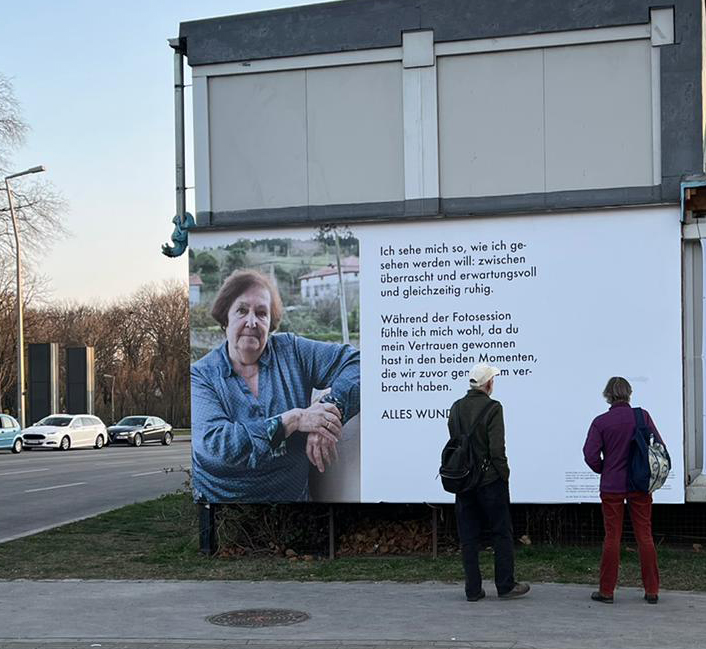 How to Change Everything, The Politics of Feminist Strike, Radical Care and Artivism, Fluc, Vienna, 2022
The specific conditions of the context in Cantabria and the contacts she establishes with a series of people and their works as part of the investigative process, lead her interest towards the lives of women from different generations, social classes and both rural and urban environments -linked to the cultural, political and social history of the region-, whose lives and/or professions revolve around the care to others. The artist's studio in Barcenilla de Piélagos was the setting for meetings where the affinities, connections and shared experiences acted as a common thread and link between all the works, and where Lena Rosa Händle provided the care to them by listening, looking and reflecting their stories.
Each photograph goes along with a text written by each one of this women about their own portrait. That way Lena Rosa Händle equals two perspectives and planes of meaning: on one hand, her point of view through the photography and, on the other hand, the point of view of each women portrayed through their writing, making us participants to these meetings, and privileging, in any case, the value of their voices, emotions and thoughts.
text by Wendy Navarro, translation Kevin Gil