Reclaiming Gestures 1
2 digital fotos, frametex backlight, dual–sided LED lightbox, steel, 2074 x 1074 cm, 2015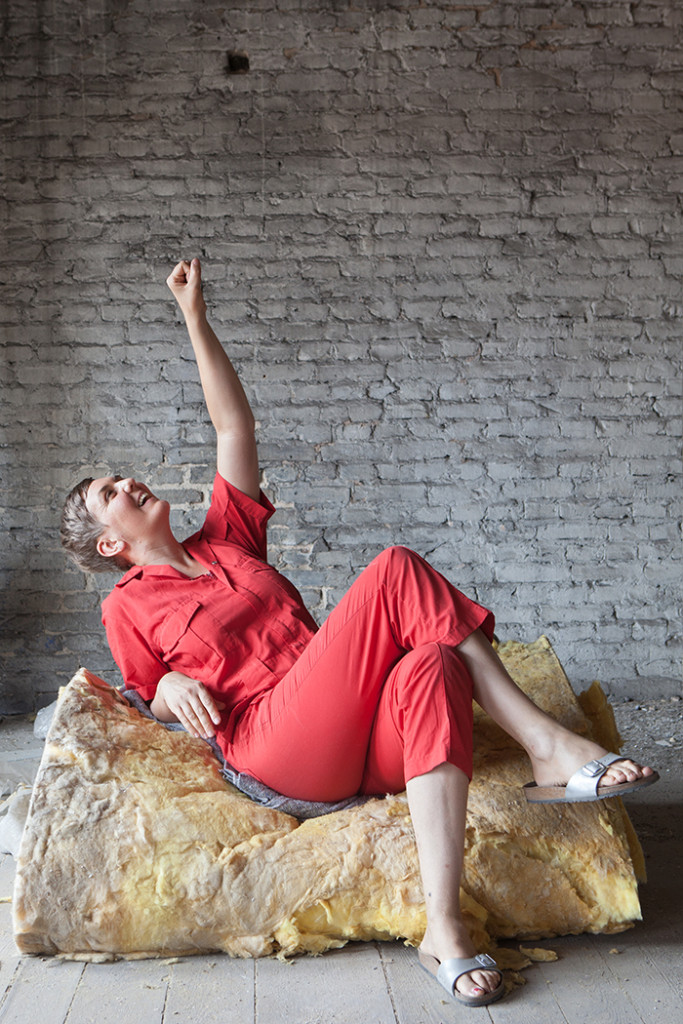 Zu schön um wahr zu sein (Too beautiful to be true)
Wenn´s lustig war, wenn´s lustig wird (When it was fun, when it gets fun)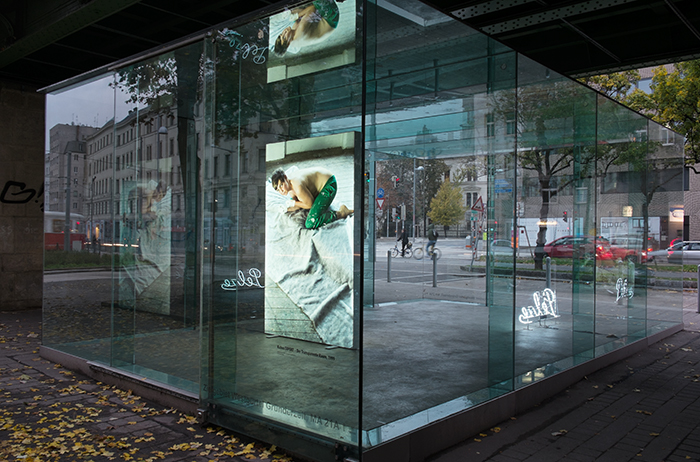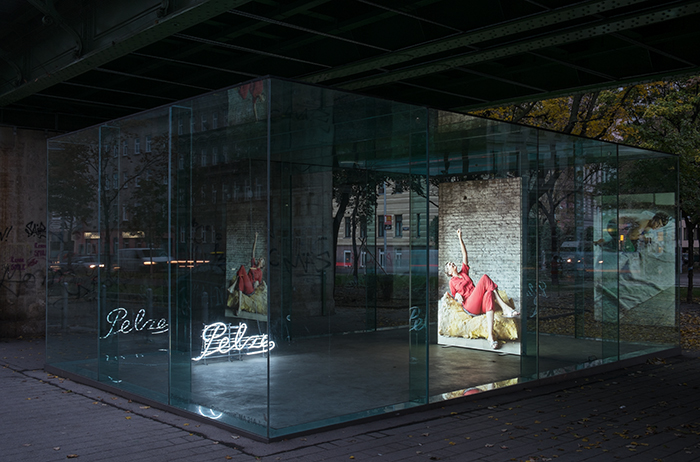 Reclaiming Gestures, Kubus EXPORT – der transparente Raum, Vienna, 2015
In Reclaiming Gestures 1 Lena Rosa Händle works with gestures and poses from sexist advertising. The images include staged performances and artist portraits, depicting queer-feminist appropriations in the studio. The individual images refer to specific historical and current advertisements whose iconographic poses the artist appropriates, reinterprets, and presents as light boxes. The self-portrait photographs suggest references to female artists of the feminist avant-garde.
Two photographs from this work were shown in the solo show Reclaiming Gestures, 2015, supported by the City of Vienna Women's Department (MA57). The two-sided large format light box engaged in a dialog with the artwork Kubus EXPORT – der Transparente Raum and with public space.
Reclaiming Gestures 2
5 pigment prints, light boxes, aluminium frames, 60 x 90 cm, 2017
Please click into the image to enlarge
Titles
1. GROSSE FOTOGRAFEN UND OLYMPUS (Great photographers and Olympus)
2. Verführerisch unser neuer Bodenbelag…Das sinnliche Erlebnis auf Parkett. (Seductive our new flooring…The sensual experience on parquet.)
3. Filter Rillos (Filter Rillos)
4. Macht Spaß im Mund! (Fun in your mouth!)
5. Jungs kommt Grillen! (Boys come to grill!)
Please click into the image to enlarge
Lena Rosa Händle & Katharina Aigner, T/abor, Vienna, 2017
text by Juliane Bischoff
Lena Rosa Händle's five light boxes are part of her series Reclaiming Gestures 2, where she negotiates depictions of the female body. The five photographs show the artist in different poses with props that cannot be clearly identified. The titles are Grosse Fotografen und Olympus (Great Photographers and Olympus), Verführerisch, unser neuer Bodenbelag…Das sinnliche Erlebnis auf Parkett (Seductive, our new flooring…the sensual experience on parquet), Filter Rillos (Filter Rillos), Macht Spass im Mund! (Fun in your mouth!), and Jungs kommt Grillen! (Boys come to grill!). The high-quality carbon prints in light boxes can be interpreted as advertisements. The composition and slogan-like titles draw on advertising images, although they contradict the usual advertising aesthetic. A break occurs between the written message and the image. The artist occupies the picture in a self-determined pose. Instead of advertised products, improvised seating made of metal frames and wooden palettes, a hasty drawing on paper, and the studio space become props in the picture. In the re-staging in her studio, Lena Rosa Händle works from real existing historical and current advertisements. Roland Barthes refers to the fact that advertising photography is a system of symbols that operates with cultural codes, whose purpose is to reinforce the desire for certain products. In the advertisment this desire is no longer created only through the products and the associated lifestyle, but also through the half-naked to naked "sexy" bodies depicted. Lascivious poses serve the objectifying view in male dominated power structures. The written message in the picture steers the interpretations of the viewers. Photography, as the preferred advertising medium, creates a myth of photographic naturalness, which is connected with a heternormative construct.
Lena Rosa Händle's staged performances appropriate the visual repertoire and give it new humorous and queer-feminist meaning. As a result, the sexism and objectification in advertising becomes obvious. In appearing as "commercial realism" (Goffman), the advertisement photograph is able to (hyper) ritualize ideas about roles. An idea of that which is absent in the supposed social situations emerges through Lena Rosa Händle's use of a visual repertoire of interactions. In her re-staging, the advertising images depart from ascriptions determined by others. The artist presents strong, self determined and humourous poses of bodies and eroticism in which queer feminist codes can be found. One reference point here is represented by writer and activist Audre Lorde, who suggests the self empowering potential of eroticism, which independently becomes the lustful moment of social interaction.
As analyses of the culture of advertising images, Lena Rosa Händle's works change the unreflected sexist prerequisites of perception that preceed thought processes. They challenge everyday assumptions and present a self determined, queer-feminist, lustful appropriation of images of women.
exhibition text by Juliane Bischoff: Lena Rosa Händle & Katharina Aigner, T/abor, Vienna, 2017